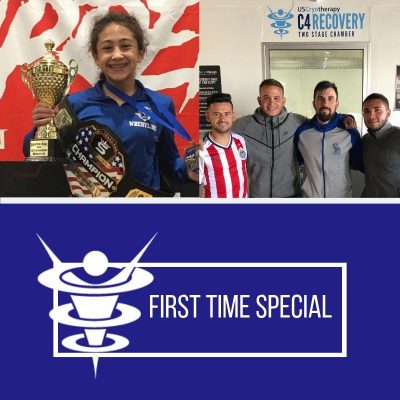 Take your first step to wellness with our 1st Timer Special.
Experience Tucson's ONLY 4 person whole body & Non- nitrogen cryotherapy chamber plus two add-on services of your choice*.

WBC elicits a natural response in the nervous system, which helps reduce pain and inflammation on a whole body scale. WBC releases feel good chemicals and endorphins, which help relieve stress, enhance mood, improve sleep, and increase energy.

**Can substitute Whole Body Cryotherapy for Red Light or upgrade visit to include Red Light for $25 (*upgrade in-store only).
My first time and I was pleasantly surprised! The place is very hi-tech, the staff was inviting and explained the process and the additional services offered. They suggested packages and didnt make me feel.rushed even though I arrived shortly before they closed.
Great customer service, clean and well-organized facility, various treatment options. A very nice place!
I had a great experience here! The staff was very welcoming and the facility is clean. I got cryotherapy one of my favorite treatments. They also offer tons of other treatments such as red light therapy and compression therapy.
Awesome place! The cryotherapy feels amazing, you feel so refreshed and good after. I also really loved the leg compression treatment. It's very clean, beautiful place, with really good treatments for overall health and wellness.
Exhilarating first time today using the whole body crying chamber! Came out feeling alert, energized and without pain. Staff was super friendly, fun and informative. Excited for the next 4 sessions!