US Cryotherapy started the Whole Body Cryotherapy market in the US with its first treatment center in Roseville (Greater Sacramento CA) in April of 2011 to establish a new holistic way of helping the body recover, raise awareness, build a brand, and grow organically. We did so with the intent of offering a novel new wellness center and a full services model that would be sustainable and affordable for the customer. In ten years, we have treated over 2M people across the nation and are growing rapidly as word of mouth spreads about the advantages of true nitrogen-free whole body cryotherapy delivered specifically at US Cryotherapy centers.
There are currently 23 centers open to the public. We are unlike the nitrogen sauna operators or distributors who have focused on expensive and exclusive novelty treatments lacking focus on sustainability, outcomes, or safety.  
At US Cryotherapy centers, memberships and unlimited use options average less than 3-4 treatments at a competing sauna locale, with a full complement of treatments such as targeted cold air devices, hydro massage, vibration plate stimulators, compression therapy, and facial rejuvenation treatments. Services vary slightly by center. You wouldn't go to the gym 3-4 times and expect a resounding result. Whole body cryotherapy is most beneficial when utilized as a lifestyle supplement, several times per week. We are the only company making that possible and easy for our customers. US Cryotherapy is the brand people know and trust. We offer the Only True Whole Body Cryotherapy centers in the US. 
We take care of your recoveries because we take care of every part of the process from manufacturing our own equipment, to building functional user friendly centers, to creating programs for our customers to enhance their quality of life as a routine rather than a single procedure. You can expect the same treatment, outcomes and service at any US Cryotherapy center from Coast to Coast, and if you are an Executive Member, you can use any location during your travels.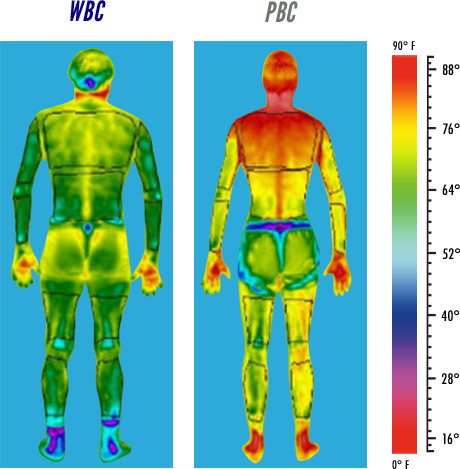 3 minute exposure comparison of WBC (-166°F) vs PBC (-256°F) Skin Temperature measurements upon exit (and other markers)
Conclusions of the head-to-head study comparing Whole Body Cryotherapy (WBC – Electric walk-in chambers at -166°F) to Partial Body Cooling (PBC – Nitrogen saunas a -256°F) were that skin temperature drops in all regions of the body were far more significant in the WBC group. Skin temperature drops are associated with the activation of the Central Nervous System (CNS) and Autonomic Nervous Systems (ANS) causing the release of Anti-inflammatory modulating proteins (norepinepherine) as well as pain modulating endorphines. WBC showed a significantly high (+35%) plasma norepinepherine concentration compared to PBC.