US Cryotherapy centers used for faster recovery and better health have grown very popular. As likely the world's leading treatment centers, US Cryotherapy has compiled thousands of great recovery stories. View our social media pages by location, our Facebook and Yelp ratings, to get to know and trust us like our loyal customers do.
Among notable frequent users of our equipment and centers for everyday health benefits, performance enhancement, and recovery are: professional athletes, models, celebrities, politicians, Olympians, and a mass of the general public. The most popular trend for US Cryotherapy use is in the sports performance and recovery arena, where treatments have become an everyday part of the highest level competitive training. However, the perception is these centers and treatments are expensive and for elite level athletes, and that couldn't be further from the truth. We help people of all ages and in all conditions with recoveries. Your Quality of Life is our Business!
Course of Care
Reed Szymanski
I began cryotherapy to assist with recovery after workouts and for nerve pain in my shoulder and lower back.
Regimen: I use the center daily. I use the chamber, localized, and alternate between the vibration plate and hydrobed.
Results: I have experienced significant improvements in reduced shoulder and lower back pain and decreased soreness after workouts.
Recommendation: A membership is well worth it if you can make it to the center, even if only twice a week.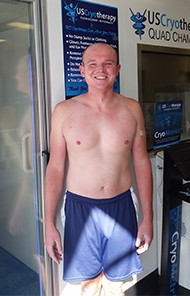 Ray Johnston
My Chiropractor suggested I ice daily to prevent inflamamtion. The ice only partially helped. I mainly had lower back problems.
Regimen: I visit US Cryotherapy almost daily after swimming with Davis Aquatic Masters. I start with the chamber followed by localized treatment on my lower back.
Results: US Cryotherapy alleviated deep back, glute, and hamstring pain ice packs couldn't!
Recommendation: Back/Hip pain? Weekend Warrior? Give your body the 2nd chance it needs to feel pain free without the nasty Advil!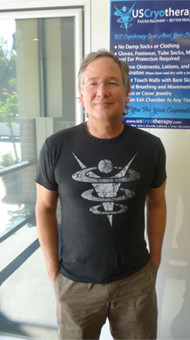 Austin Glatt
I first came to US Cryotherapy for my knees, I have Osgood Schlatter
Regimen: I try to get in 3 times per week. I do 2:30 in the chamber and then localized on both knees.
Results: I experience a lot less frequent pain in my knees. I am now able to play sports.
Recommendation: Try the chamber and the localized device for your areas of pain, they really do help!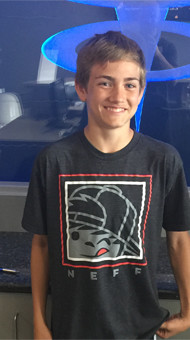 Carli Cutler
I came in two years ago with my high school softball team and have been coming ever since.
Regimen: I use the chamber and localized device at least four times per week.
Results: I recover from workouts quicker and it helps me heal my injuries.
Recommendation: Any athlete who is serious about their performance and wants to recover faster from workouts or injury should come to US Cryotherapy. I use it as preventative maintenance too.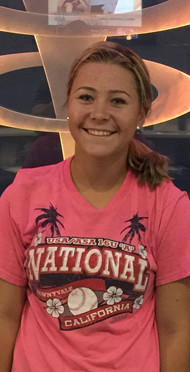 Kathleen Kemp
I had heard professional athletes were using whole body cryotherapy to speed recovery. I tore my MCL, so I gave it a try.
Regimen: I came two times per week in addition to physical therapy. I really like the spot treatments and the hyrdo massage bed. Totally relaxing and rejuvenating!
Results: I had much less pain and recovered faster than expected with total confidence to resume my training.
Recommendation: I highly recommend US Cryotherapy to anyone recovering from an injury or an athlete in training.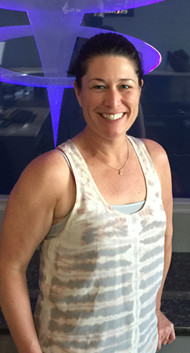 Dawn Furie
I had knee surgery for a torn meniscus
Regimen: I use US Cryotherapy chamber, localized device, and hydro massage bed 4-6 times per week.
Results: I had very little swelling in the knee. I progressively increased activity with overall pain and inflammation reductions and other areas of my body felt great as well.
Recommendation: I tried it for a month. The benefits are more advanced over repeated use. Now I have an annual pass so I can continue to go several times per week for better health.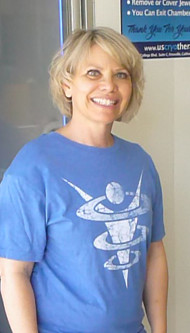 Brenda Yee
I was referred by a friend to try it for general health. He loved US Cryotherapy and and was certain I would too.
Regimen: I come in every other day and my routine is chamber followed by localized treatment.
Results: I sleep better, feel reduced stress, less frequency of hot flashes, and i am less cranky. The staff is attentive, careful, and interested in my needs.
Recommendation: I would say to keep an open mind and let the staff guide you through the process. The results will speak for themselves.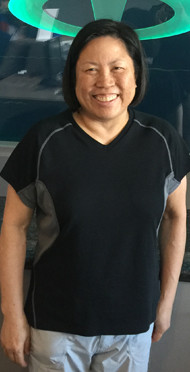 Customer Stories
I've used icing as a way to reduce swelling and speed up recovery since I started running marathons ten years ago. Ice is a great recovery tool, US Cryotherapy's technology is amazing! The localized machine gets the skin temperature lower than just using ice packs and saves valuable time. Having US Cryotherapy on Run It Forward, running from Chicago to Santa Monica, aided me in being able to get back out and hammer out the miles day after day and still have enough energy to run with the kids as well!
– Kate Martini Freeman
Ultra Runner
Run It Forward Runner
3:04 marathoner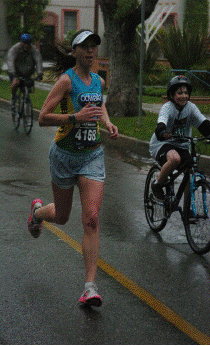 ---
As an Ultrarunner, I am calculated in my recovery therapy. Seven of my friends and I just finished a 2,500 mile run in 18 days. Each of us sought to run a marathon distance a day. Without the access to US Cryotherapy's localized machine, the effects of brutal pavement pounding and extreme fatigue would cause us to come up short. We finished ahead of schedule. Thank you to Kevin Kramer and Todd Kramer for investing in our recovery by keeping us strong thru the finish. Much hope,
– Jason Harper
Founder, Be Change
Ultrarunner, Run It Forward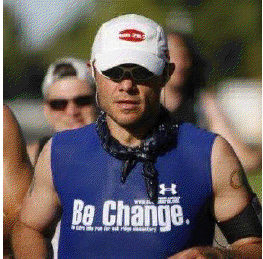 ---
Coming into the Run It Forward program I had a left Achilles issue and a right calf issue. By the fourth day of running full marathons in a row my body was broken. I was hurting so bad, and my sore Achilles was now making it so it even hurt to walk. I was very concerned as I somehow still needed to be able to run another 15 days straight. Dr. Mike started the US Cryotherapy machine on it, and within a few times it was much better. I was able to run faster and it made my pain almost subside. This machine is miraculous in healing sports injuries. I came home from Run It forward totally injury free, and have been training about 100 miles a week getting ready for my next big 100 mile race. Such a great piece of equipment!
– Keira Henniger
Ultrarunner
Race Director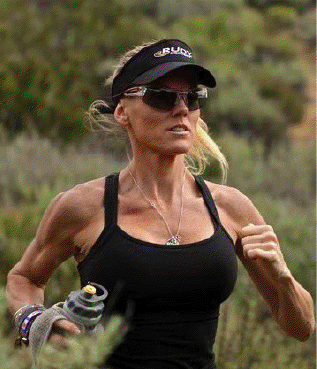 ---
I have personally been impacted by the value of your product. Having just completed a run from Chicago to California in 17 days with 7 of my closest friends, I know our success hinged on US Cryotherapy products and technology. Having completed more than 135 ultra races on 3 continents in the last 5 years, Ican attest my only regret was that I didn't have access to you sooner. Thank you US Cryotherapy! I have lifelong loyalty to you! Best,
– Ray Sanchez
3 time Badwater Finisher
2 time Western States Finisher
First ever BAD Cup World Finisher